BUSINESS OF THE MONTH
February 2023

Curry's Nursery and Floral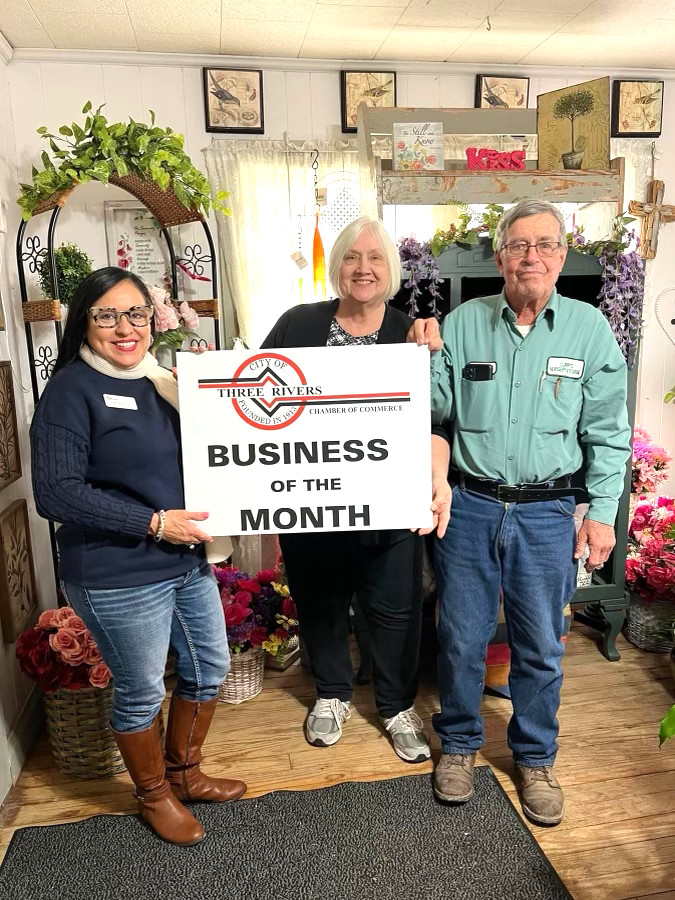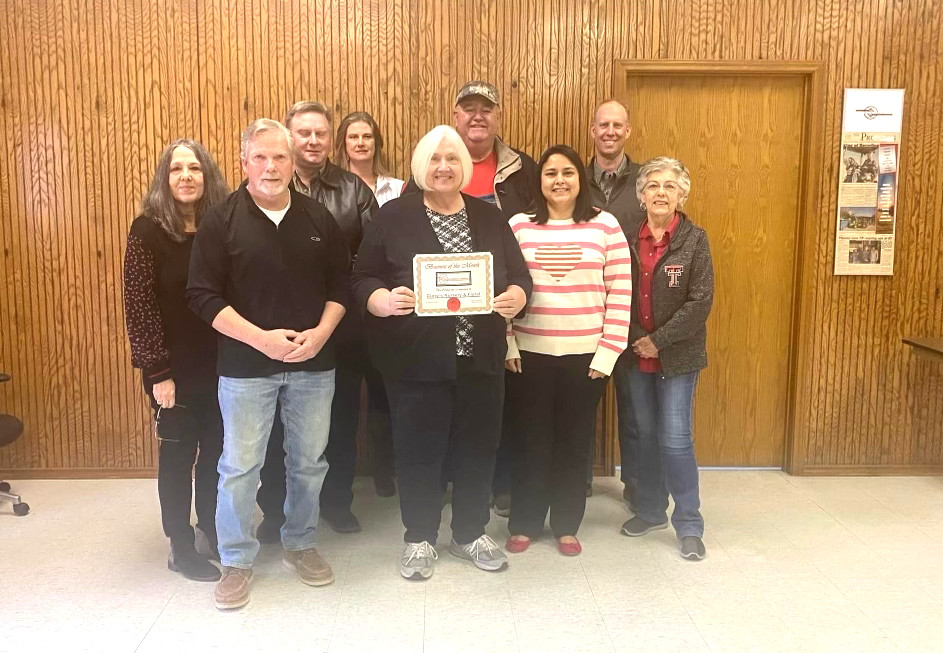 Three Rivers Chamber Of Commerce honors Curry's Nursery and Floral as business of the month.
Owner's Wayne and Terry have brought beauty to Three Rivers for many years! Inspiring, Supporting, and Delighting their customers, when expressing life's most important moments…
Whether you're celebrating the birth of a child, kindness of a friend, the closing of a business deal or sending condolences…
Flowers from CURRY'S NURSERY & FLORAL will make any occasion special.
Visit their website at www.threeriversflorist.com
March 2022
H & R Block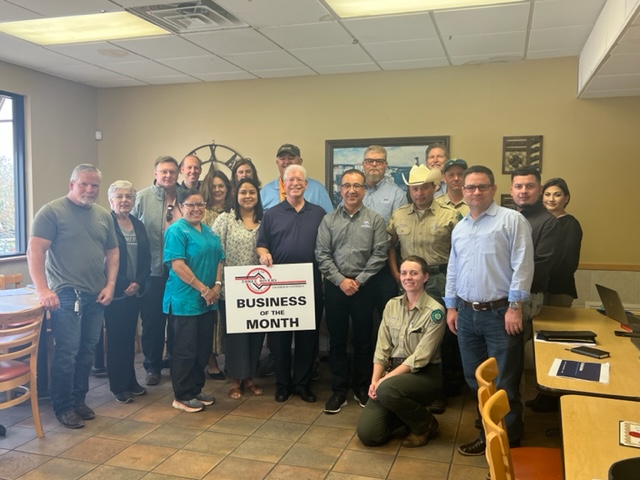 H & R BLOCK was founded in 1955. I am not sure of the exact date that this office opened in Three Rivers but I remember that the franchisee, Alice Brown, in Pleasanton knew Bea Furr the original franchisee here. I remember conversations in the office about different franchisees in the area and the history of some of them. The Pleasanton franchise opened in 1967 and I am certain this office was opened around the same time. Bea Furr's grandson actually worked in the Pleasanton office for a while for me.
I started my career with H & R BLOCK in 1991 as an after school job. Prior to H & R BLOCK, I had taught public school music and private piano. My musical career started as church pianist at age ten along side my Mom. I still accompany for church and community events. For three years, I worked as a tax preparer in Pleasanton before buying the franchise in 1994. 1996-2000 besides owning the H & R BLOCK office, I had a teenage driving school in Pleasanton. In 2001, I purchased the Pearsall H & R BLOCK franchise. In 2002, the Devine franchise was purchased. 2005-2017 I operated Kaleidoscoops Ice Cream shop in Pleasanton. In 2013, I purchased the Floresville franchise and in 2015 the Three Rivers franchise was purchased. In Dec 2020, the Pearsall and Devine offices were sold.
During this time I earned Enrolled Agent status which allows expanded representation with the IRS. My expertise spans from the simple tax return to farm and ranch, oil royalty, rental income, and small business. I truly enjoy what I do because it is all about helping a client maximize the tax laws to their benefit. I am proud to be a part of the Block family.

Keith Shearrer Franchisee
Pleasanton Floresville Three Rivers
P O Box 248
Pleasanton, TX 78064
830-569-2251 (Office)
830-569-8282 (Fax)
---
February 2022
OYO Hotel and UHaul Dealer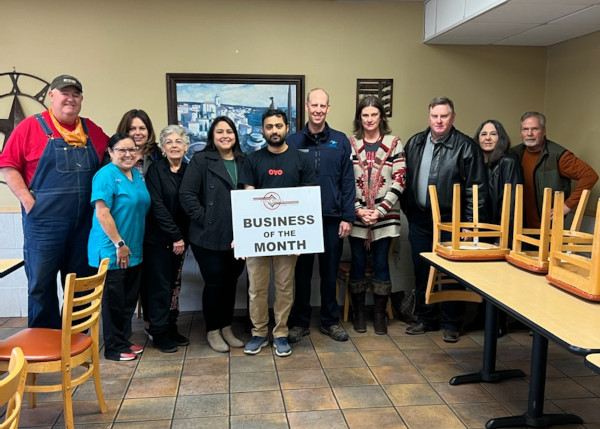 Have you heard of OYO Hotels? It's about to become a household name. The six year old budget hotel chain is scaling faster than any other hospitality company in the world and is now taking the United States by storm.
OYO entered the U.S. market in February 2019 with test properties in Austin and Dallas, and today there are already more than 110 OYO Hotels in scores of locations, including large American cities like Dallas, Houston, Denver, Augusta, Atlanta, and Miami. Perhaps a better indicator of how quickly OYO is exploding can be gleaned from perusing job sites like Indeed.com, where nearly 300 OYO jobs are listed in second tier cities like Akron, Ohio; Brookhaven, Mississippi; Buffalo, New York; and Nacogdoches, Texas.
At our Three Rivers location, we have received the "scrub clean" award on both Expedia and Booking.com. We want to welcome everyone with the assurance that allows for a good night's rest.
Additionally, we are the only U-Haul dealer in our county that provides trailer, truck, and towing equipment rental for your needs. For both booking a newly remodeled room (ongoing at present time) or renting from Uhaul , please call 361-786-3563.
---
January 2022
DoggieDo's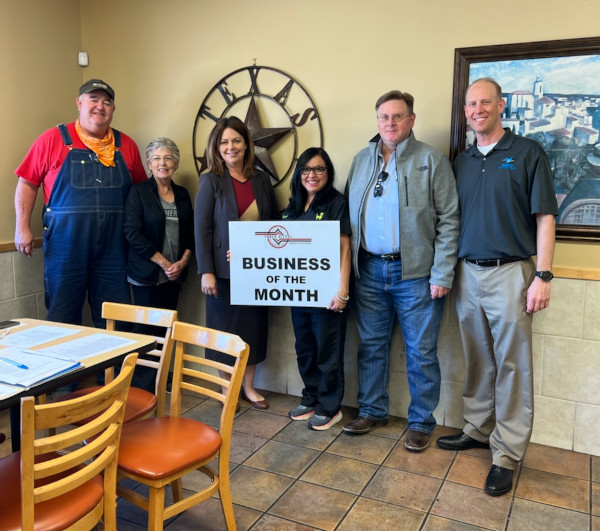 Owner Angie Ponce at DoggieDo's is TR Chamber of Commerce business of the month for Jan, 2022! When we told Angie, she thought this was the perfect way to start the New Year! Doggie Do's has been in business since November 26, 2011, and 10 years later, Angie still remembers her first groom like it was yesterday. He was a Jack Russel named Jack. Angie remains busy, grooming various breeds at Doggie Do's. She offers full grooms to mini-grooms for small to medium dogs. I asked Angie, "how many dogs have you groomed?" and she stated over a thousand. Many clients remain regulars.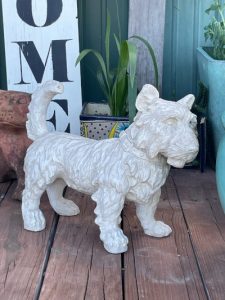 I noticed all her porcelain dogs, Angie elaborated about one in particular, a Highland Terrier aka "Westie" that was given to her by the late Margie Smith (W.D. Smith). Margie had attended an estate sale and the antique dog, dating back to 1900, was owned by a little elderly lady. When Margie asked her, "how much for the dog?" The lady said, "it wasn't for sale!" However, before Margie left the estate sale the elderly lady approached her and made sure that she took him home before she left.
Angie's excited about the new year for the many changes to come. Doggie Do's will soon be relocating. Stay tuned to the Chamber of Commerce website for the new location. Angie supports her community by contributing full groom certificates for fundraisers, silent auctions, benefits, etc. She also hosts school tours upon request, hoping to spark interest in dog grooming, her personal passion, or becoming a small business owners for themselves.
Angie is most grateful to her community for giving her their business, and offers a senior citizen's discount on grooming services. Business hours Tuesday-Thursday 9-5, Friday 9-3
503 E Thornton St.
Three Rivers, TX 78071
361-449-6455
---
November 2021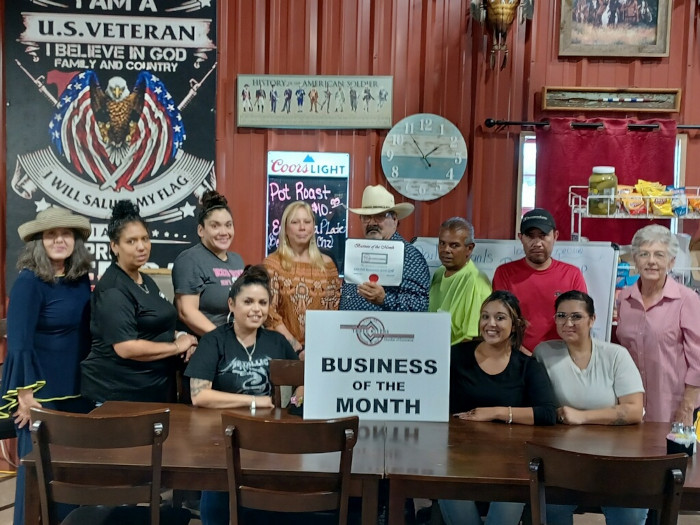 Live Oak Restaurant Sports Grill  Seated: Jennifer Cruz, Alyssa Sotelo, Erica Saenz employees
Standing: Rose Burch, Veronica Carr, Kayla Garza, Bobbijo Cauley, Lucio Morin owner, Valdo Pena, Jose Meta, Dianne Dye
Rose, Bobbijo and Dianne are Chamber Representatives and other employees.
---
July 2021

AMERICAN LEGION POST 413 IN THREE RIVERS, LED BY COMMANDER ROSENDO PENA, JR. THE PRESIDENT OF THE LADIES AUXILIARY 413 IS CARMELITA C. MORENO, COMMANDER. OFFICERS AND AND SOME OF THE MEMBERS OF POST 413 OF LIVE OAK COUNTY PICTURED AT THEIR MEETING.
Those pictured include Melvin Melton, kneeling. 2nd Row – Linda Crawford, Angie Ponce, Mary Valdez, Emily Cruz, Carmenlita Moreno, TC Meineke, Emily Cruz, Audelia Trevino, Celia Cruz.  Third Row – George Crawford, Tommy Forehand, Jose Aguero, Deanna Willis, Phyllis Melton, Commander Rosendo Pena, Jr. , Rey Trevino, Joe Crawford. Back Row – Don Johnson ,Dale Burell,
---
June 2021

CONGRATULATIONS EMPLOYEES OF THE FIRST STATE BANK OF TEXAS.  PICTURED ARE: RODNEY WIEDING, MELONIE GASPER, LYN HENICKE, EVA SAENZ, JUDY WEBER JENDRUSCH AND ROSE DOVE BURCH REPRESENTING THE CHAMBER.
---
May 2021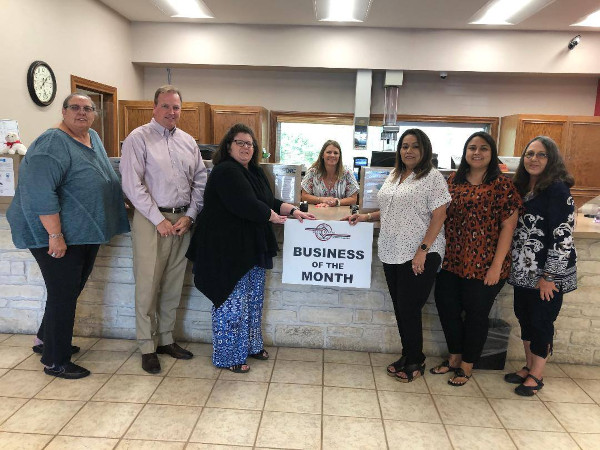 Congratulations South Trust Bank, our Business of the Month for May 2021.  Shown are Virginia Herring, Gregg Booth – President, Lori Kasper, TC Meineke, Dora Cruz, Gilda Ramirez and Rose Dove.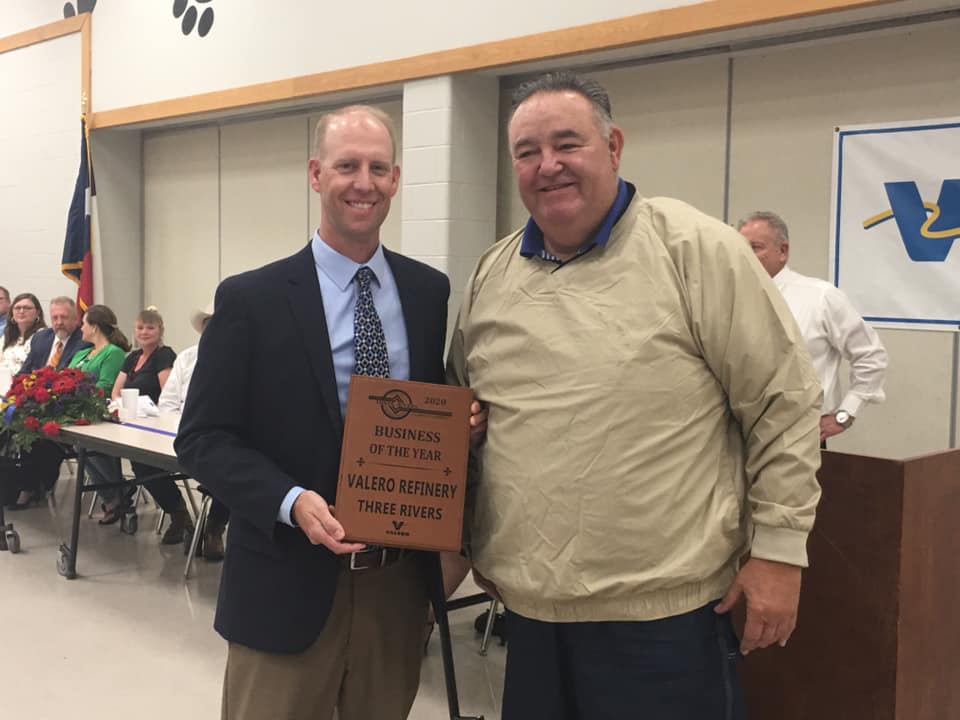 Valero Three Rivers has been named Business of the Month for April 2021.  Valero was also awarded the Business of the Year Award at the Three Rivers Chamber of Commerce Awards Banquet.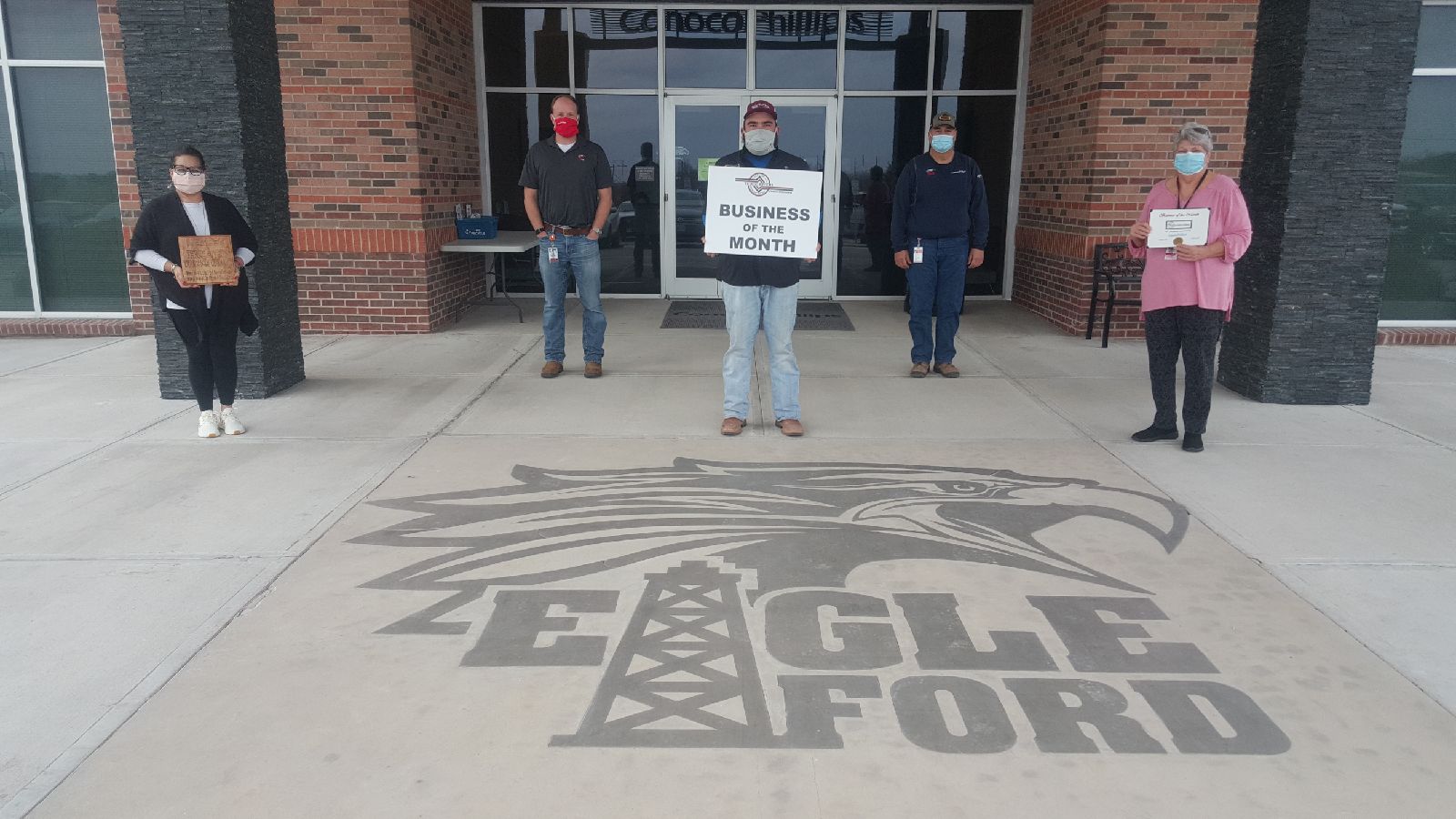 ConocoPhillips is honored to be recognized as the Three Rivers Chamber of Commerce's Business of the Month. ConocoPhillips invests in the Eagle Ford community through charitable giving, employee volunteerism and sponsorships. Its donations support education, health and safety, natural resources, the arts, civic and social services, and disaster relief.
Pictured are members of the Community Investment Team, leads for fundraisers and Stakeholder Relations.
From left to right:  Front: Sandra Arguijo, Craig Libranda, Glynis Holm Strause
From left to right:  Back; Tim Turner, Rick Aquino
---
February 2021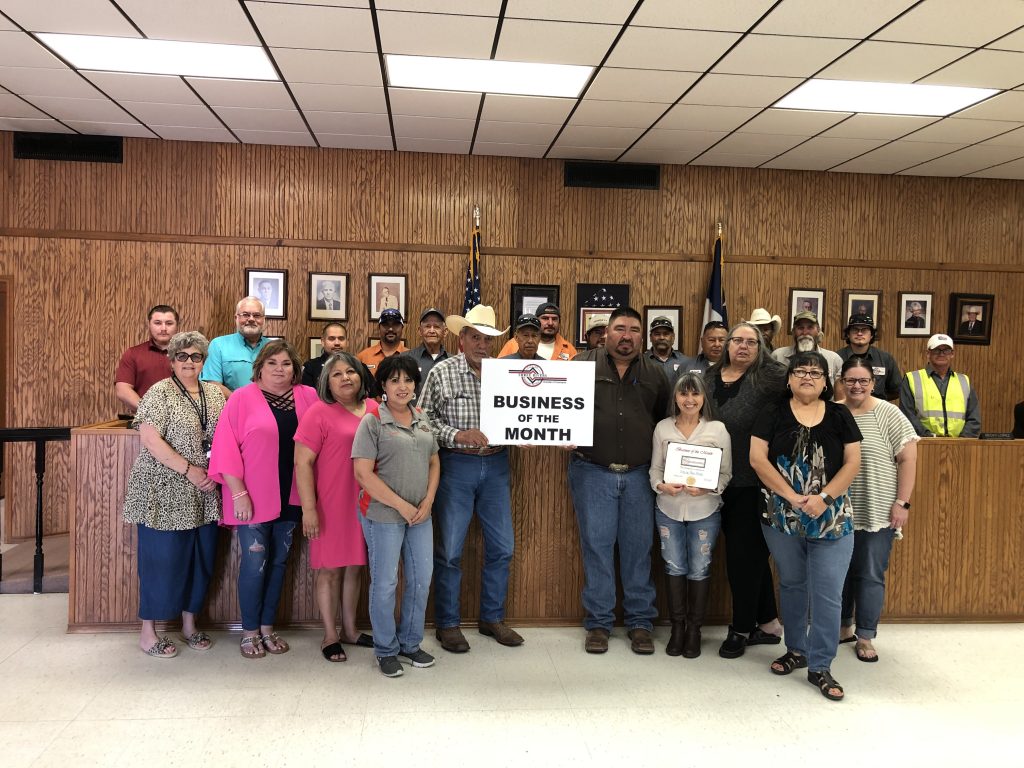 City of Three Rivers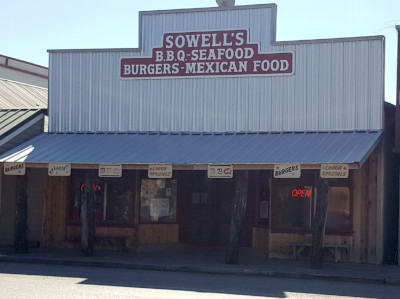 Sowell's BBQ is the Three Rivers Chamber of Commerce Business of the Month for January 2021.
Rick and Gretchen have owned the BBQ since 2009 CONGRATULATIONS! Also Rick is our President of the Chamber of Commerce.
---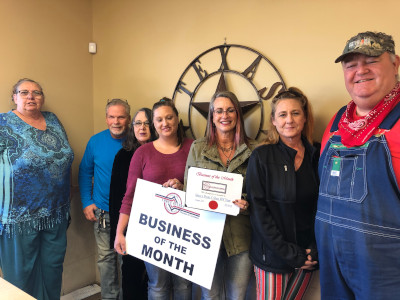 Reba's Rock-N-Rose RV Park was named the Three Rivers Chamber of Commerce Business of the Month for December 2020.
Pictured are (from left) Virginia Herring, executive director of the Three Rivers Chamber of Commerce, chamber board member Jeff Fisher, chamber board secretary Rose Dove Burch, new chamber board member Leia Trudell, RV park owner Reba Hendrix, Daphne Ramsey and chamber board president Rick Sowell.
---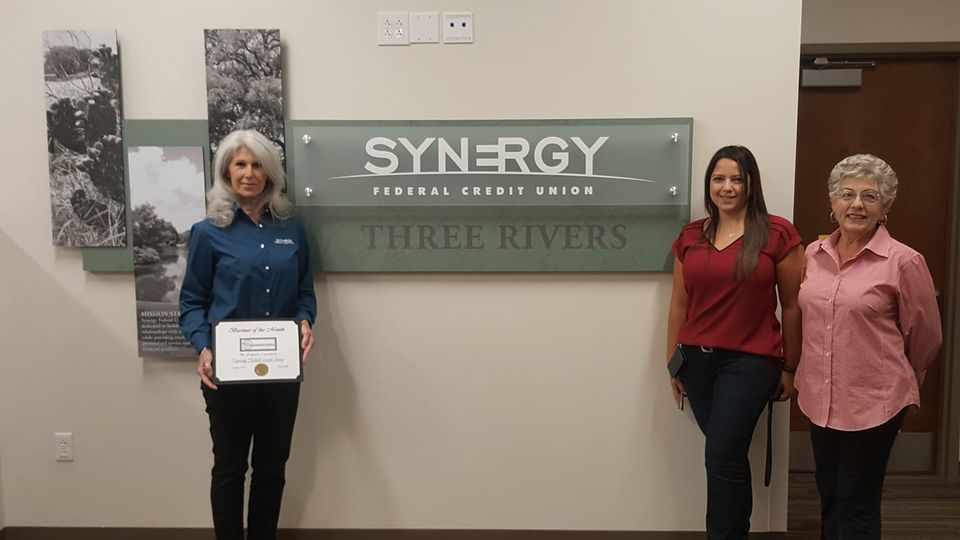 SYNERGY FEDERAL CREDIT UNION
Their branch is located in the Valero building in Three Rivers. Pictured from L to R: Robin McCumber branch teller, Yany Centeno Treasurer and Dianne Dye Vice-President both representing the Chamber of Commerce……Congratulations
---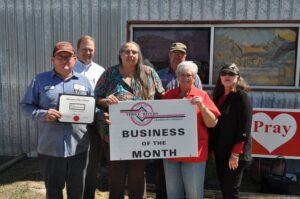 Our business of the month is Hefco, Inc. owned by Buford and Mildred Estep. Hefco has been in business since 1983 and specializes in big truck repair.
Pay them a visit at  500 N Harborth Ave.  They can be reached at (361) 786-3206.
Pictured above are: Back Row – Gregg Booth CofC, Jeffery Zamzow Employee. Front row – Buford Estep Jr., owner, Virginia Herring CofC, Mildred Estep, Owner, Rose Dove Burch CofC
---