BUSINESS OF THE MONTH
June 2023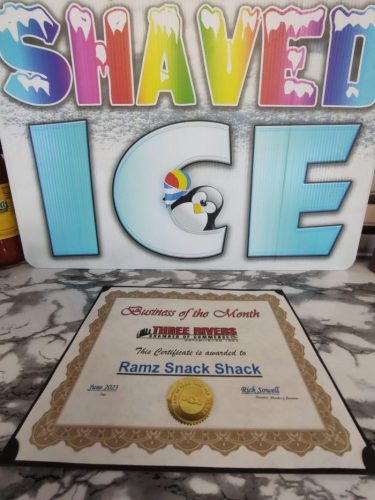 Congratulations to our, June Business of the Month, RAMZ SNACK SHACK, owners Daniel and Delores Marie Ramirez.
The "Dream" of opening Ramz Snack Shack originated with Mrs. Ramirez, however their was a shift in her work schedule so she was not able to continue with her "Dream," however Daniel saw the need for the business and looked forward in seeing all the children smiling while enjoying their Snow Cone, so this made Daniel have a change of heart and continue with Marie's dream. And here we are 3 years later!!! The business opened March 13, 2020 and has been doing very well. So well In fact that on April 21st Daniel expanded his business with a larger building. "We have a lot of new ideas that we are slowly implementing," said Daniel. Business hours are 4:00-7:30 pm daily, but might be opening up later soon. The business is located at the corner of 408 E Leroy St. and Hermann Avenue.
Thank you, Ramz Snack Shack for your membership.